Our first year with an actual Gift Guide :)
LITTLE PASSPORTS and GIVEAWAY ends Mon Nov 13 @11:59 pm EST
I absolutely love Little Passports the Around the World and extra awesomeness . This as the highlighted product of choice contains a more in-depth review. ( Sponsored as I did receive products for Zach )
Give your kids the world!
The best kids' gifts inspire the imagination and keep kids interested and engaged. That's exactly what you get with Little Passports monthly subscriptions! They have the perfect gift for all ages:
• World Edition: Ages 6-10, explore a new country each month with souvenirs and hands-on activities
• Early Explorers: Ages 3-5, discover a new world theme each month, like Oceans, Music & Dinosaurs
• Science Expeditions: Ages 9 and up, reveal mysteries of the world through science experiments & activities
• USA Edition: Ages 7-12, learn about two new states each month, with activity-packed State Journals
Affiliate link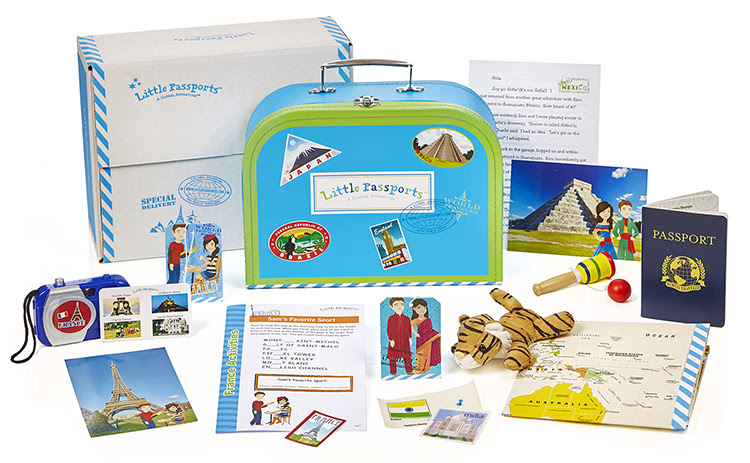 Ages 6-10 World Edition
Ages 3-5 Early Explorers
We had been sent this again with the Animals pack that goes along with that you can buy separate. As well as the
souvenir-picture-book
, which is awesome and something to think about getting in addition as well. The finger puppet animals are the cutest little craft and so fun for your little one . It was so much fun exploring where each one came from and having my little guy correlate to the country they inhabit.
Science Expeditions . This one looks so cool.
You have to check out their full shop though ,
https://www.littlepassports.com/shop
as there are so many more things there. Really cool neat things .
My little guy has his eye on a few things, esp that Dino Backpack
https://www.littlepassports.com/dino-pals-backpack
All prices are USD so there will be some Canadian Conversion.
ENTER TO WIN A 6 MONTHS SUBSCRIPTION JUST LEAVE A BLOG COMMENT WITH YOUR MUST HAVE ITEM THIS YEAR . HEAD TO FB FOR EXTRA ENTRIES
HERE
STINKY PIG GAME
Potty humor around here in our little abode is well appreciated. So of course when you see a game under 10 bucks called Stinky Pig , you have to have it .
This game is legit hilarious. It is like Hot Potato, with a Fart thrown in.
The game is by PlayMonster and you can get it at Walmart for $8.93
buy at Walmart
You are given the farting pig, a dice and tokens, such a simple fun silly game.
IN THE BEGINNING- A CHRISTMAS TALE
(Used my sisters pics as they were the best images )
I have the privilege to be the big sister to Sarah who has just self published her first Children's book .
You can grab your copy ( or many of you have lots of kiddos to gift to here
http://www.volumesdirect.com/detail.aspx?ID=5520
( non affiliate)
it also makes a great Teachers gift as well so they can have a copy for their classroom.
(okay so I didn't have an awesome picture to share so I took this from the write up about her in the Living Here edition , so this is their photo)
A cute new take on Christmas and Elves . A wonderful, feel good story.
Enter to win a copy from Goodreads
https://www.goodreads.com/book/show/36471406-in-the-beginning---a-christmas-tale
Will be reviewing ( non- bias OF COURSE lol) and will update to the link.
Check out the Facebook page
HERE
and enter to win another copy on Facebook
https://www.facebook.com/IntheBeginningAChristmasTale/photos/a.128648377785540.1073741829.114527292530982/139015923415452/?type=3&theater
MY FUNVELOPE
I had the privilege of being first blogger to showcase this really cool Craft Subscription box I came across. It is called MyFunvelope. You can link to my review
HERE
and second review
HERE
Direct stock photo from her Facebook page (
HERE
) to do justice to this amazing and cool concept. Coupled with the fact that the subscription is only $18.00 a month and the contents are beyond fab, this is sure to please any of your crafty little ones in your life. Plus you get to be awesome all year when the bag of goodies show up.
You can pre-order now for the December release right through the
WEBSITE
GIVEAWAY HAPPENING ON HER FACEBOOK PAGE
CLICK HERE
THE PILE DRIVER
Hard to get your hands on , and no they don't ship to Canada but this Remote Control Pile of Poo needs a mention as just something so freaking cool and the hilarity ensues . If you are in the US and close to a 5Below and can get one and if potty humor is your thing , You have got to get one.
https://www.fivebelow.com/the-pile-driver-trade-poop-remote-control-car.html
We have no affiliation to 5Below and this is no way sponsored. We were gifted this Poo by a friend and I had to post it .
BLIPPO
#BLIPPO
Just wanting to shout out to Blippa as well. The coolest store featuring all the goodies from Japan , Singapore etc. The wacky neat candies, to the cute Kawaii items. There is something for everyone. Cheap prices to . The free shipping takes quite awhile so if you go that route with no tracking I would order right away to get it in for the Holidays. I have never had a problem with the free shipping what so ever and have always gotten everything I have ordered. The DIY candy kits are such a hit in our house. Just recently needed to use up whatever was left on a prepaid Visa card so we ordered some paper candy . My little guy loved it after he got through the first taste . The first taste is always where the fun is at lol. Non -affiliate link to visit the shop
HERE
Nancy's Fudge
If you need some Christmas goodies and treats , ( of course you do ). Check out my review
HERE
PIKMI POPS
These are a new collector toy , a lollipop with a scented plush , check out my review
HERE
with all you need to know .
POP CARD EXPRESS 3D POP UP CARDS
An insane Artisan gift card, my review is here and worth reading . A gift itself for 10.00 and so amazing
http://wannabesuperheromom.blogspot.ca/2017/11/pop-card-express-review-3dpop-up.html
The Yellow Toucan
An amazing personalized map for your little
http://wannabesuperheromom.blogspot.ca/2017/11/the-yellow-toucan-personalized-child.html
We will be updating all over the next months if we come across so more cool things that need a shout out .